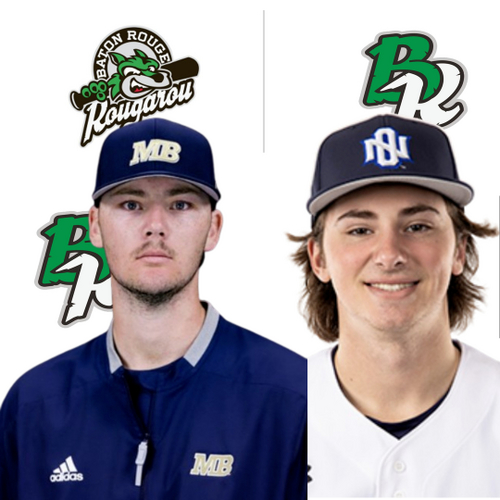 BATON ROUGE, La. – The Baton Rouge Rougarou announced today the addition of pitcher Sonny Brandwood and catcher Andrew Guidry to their 2021 roster.
Brandwood comes to the Rougarou from California State University, Monterey Bay (CSUMB) where he will enter his junior season this spring. The 6'6" righty went 1-1 with 1 save in 6 appearances (1 start) totaling 10.1 innings on the hill for the Otters in the shortened 2020 season. The Dublin, Calif. native spent his first two collegiate seasons at Laney College (Oakland, Calif.). He was a second team All-Bay Valley Conference selection after his freshman season when he went 3-3 with a 3.62 ERA in 13 appearances (7 starts). Brandwood followed that up his sophomore year going 4-4 with a 4.24 ERA in 12 appearances, all of which were as a starter. He fanned 69 in 76 1/3 innings for the season, highlighted by a complete game, 3-hitter with 11 punchouts in his win over Yuba College (Marysville, Calif.).
Guidry, from nearby Lafayette, La., prepped at St. Thomas More High School and will be entering his freshman year at University of New Orleans. The left-hand hitting backstop was part of four district championship teams and three state semi-finalist teams with the Cougars. Guidry hit .330 with 6 HR in his junior year at STM, then hit .370 with 15 RBI in 9 games before the season was cut short due to the pandemic. Perfect Game rated Guidry the 57th best prospect overall in the state of Louisiana and the 6th ranked catcher. He was a 2020 Perfect Game Pre-Season All-America selection and 2020 Louisiana Coaches Association All Star.
The Baton Rouge Rougarou will release their 2021 TCL schedule in the coming weeks. Please check back at the team's official website www.brrougarou.com for any other off-season news as it develops. For information on advertising, sponsorships, promotions, and other opportunities with the Rougarou, check out the website as well, or call the Rougarou offices at (225) 338-4FUN (4386).