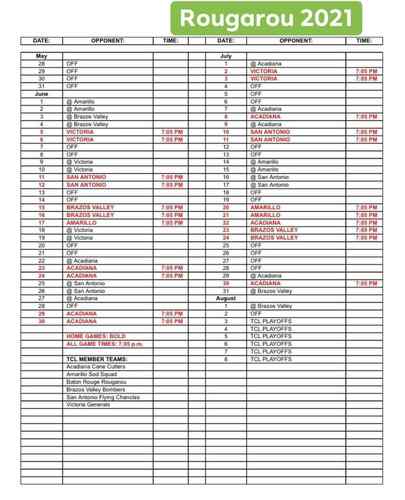 BATON ROUGE, La. – The Baton Rouge Rougarou today released their full 2021 Texas Collegiate League
schedule. The 44-game regular season slate, evenly split with 22 games both at home and on the road, runs from
May 28 through August 1 with post-season play starting August 3. The TCL All-Star game and post-season
play information will be released at a later date. The full TCL roster of clubs includes Texas teams Amarillo
Sod Squad, Brazos Valley (Bryan, Texas) Bombers, San Antonio Flying Chanclas and Victoria Generals, and
fellow Louisiana member club Acadiana (Lafayette, La.) Cane Cutters.
The Rougarou open the 2021 season with a 4-game roadtrip to Texas on Tuesday, June 1, playing two-game
sets with both Amarillo and 2020 TCL Champion Brazos Valley Bombers. They return to Pete Goldsby Field
on Saturday, June 5 for their Opening Day when they square off with Victoria in a short two-game homestand.
The 44-game full-season schedule has Baton Rouge facing off with intrastate rival Acadiana a total of 13 times
(7 home dates, 6 on the road), followed by Brazos Valley, San Antonio and Victoria eight times each and
Amarillo seven dates. The 22-game home schedule features four each Thursday and Friday night dates with five
Saturday night tilts. All home games will begin at 7:05 p.m. with gates opening at 6:00 p.m.
The Rougarou full-season schedule is listed on the following page. A complete promotional schedule will be
released at a later date. Please check back at the team's official website www.brrougarou.com for any other off-
season news as it develops. For information on advertising, sponsorships, promotions, and other opportunities
with the Rougarou, check out the website as well, or call the Rougarou offices at (225) 338-4FUN (4386).